MISSION
Our mission is the foundation of all our decisions. And we make decisions to implement the best medical practice that fulfills the principles of quality, effectiveness, and efficiency. TCI Hospital distinguishes itself through its mission of creating an environment where: 
Patients

receive the best medical care. We commit to delivering a responsive and healing environment with high clinical qualities. We value our patients' satisfaction as a gauge of our success.

Employees

together create a professional working environment. We want to foster an atmosphere of trust, openness, and collaboration. Integrity is our core value. We encompass honesty and consistently adhere to the principles of professionalism.

The health sector

, especially the non-public health sector, grows. Unparalleled service is a golden factor for TCI Hospital to have a foothold in the hospital industry, especially when the private healthcare market is gradually developing.

Communities

benefit from medical services and non-profit healthcare programs. We acknowledge our critical and dynamic duty in our communities. We want to make sure all people get the healthcare services they need.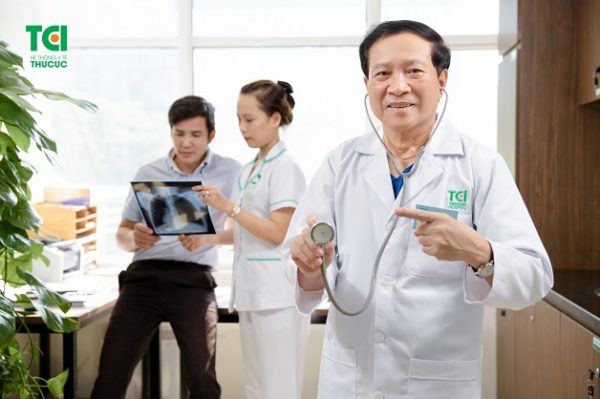 TCI's logo carries our mission. TC stands for Thu Cuc, inheriting the previous identity. I stands for International, defining our development orientation in the healthcare industry. The orange circle inside the letter C represents the convergence point of mission, history, and vision. Particularly: 
Mission: A seamless closed loop in the logo demonstrates full responsibilities as TCI commits to "a lifetime health care for you" 
Historical element: The former circle containing a woman's face has been TCI's identity, marking 24 years of the development journey. This core value has affirmed our place in the hospital industry and the customers' eyes over the past 2 decades
Brand vision: The orange circle symbolizes the globe, expressing the goal of globalization. Its orange color is a hit point to represent internal strength, energy, and desire to reach further to the international community.
VISION
During the time in which the healthcare system of the capital was not fully equipped in terms of both quantity and quality to serve patients, TCI was established to fulfill medical needs. Our goal is to help alleviate the burdens of the in-short-supplied system. Moreover, we hope to provide comprehensive healthcare treatment following international standards with a professional medical team.
We desire to provide leading practice health care in a modern, dedicated, and well-equipped facility. We focus on clinical excellence with state-of-the-art medical equipment and technology and highly trained medical professionals. Those two are means to deliver exemplary health care to our patients. 
The vision of TCI reflects the formation of the hospital's key departments, which are based on two criteria. The first one is to serve the majority. Most common departments were established such as the Department of Examination, Department of Diagnostic Imaging, Department of Laboratory, Department of Treatment, Department of Obstetrics, Department of Surgery, etc. The second criterion is to serve illnesses that require more difficult and constantly updated treatment regimens. Therefore, the Oncology Department was established. This formation distinguishes TCI from other institutions in the private healthcare sector and resembles its noble goal of dedicating and contributing to the greater good of the community. 
INHERITANCE AND DEVELOPMENT 
A sign of continued growth across TCI is there have been more and more campuses and units operated, contributing to the health care system of the institution. TCI has always been a destination for complex care that follows the concept of a "Caregiver" – dedicated, caring, passionate, and a "Modern Institution" – advanced, globalized, and accessible. TCI wants to provide the highest quality, comprehensive, and safe healthcare through the latest technology and highly trained medical professionals.
In 2020, VinaCapital Vietnam Opportunity Fund (VOF) officially invested in TCI, catalyzing TCI's expansion journey to make it one of the leading private hospitals.
FACILITIES OF COLLECTION TCI HEALTH SYSTEM
Thu Cuc International General Hospital on 286 Thuy Khue Street, Thuy Khue Ward, Tay Ho, Hanoi
Located near West Lake, the 10-floor hospital brings a sense of ease to patients who come for medical treatment here. The institution invested in rare equipment such as the one-way sterile operating room system and advanced medical imaging techniques such as magnetic resonance imaging (MRI scan), multi-slice CT scanners (MSCT), 4D ultrasound, three-lead electrocardiogram, narrow band imaging (NBI), etc. These high-tech equipment follow international standards and are licensed by the Ministry of Health. The automated robotic examination system, applied by 12 of the top 17 hospitals in the U.S., is also present at TCI to serve our patients.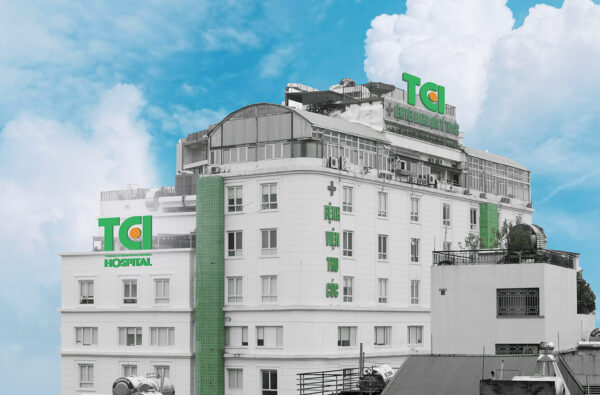 Thu Cuc International General Clinic on 216 Tran Duy Hung Street, Cau Giay, Hanoi
The location is convenient for patients in the city's western area, particularly ones from Cau Giay District. The spacious 7000 m2 facility is helmed by a knowledgeable and robust team of medical professionals. Our team offers excellent performance in diverse specialties such as cardiovascular, hepatobiliary, digestive, urological, neuroendocrine (not including in-patient treatment), surgical pathology (not including surgery), antenatal care, gynecological examination (not including delivery, cesarean section), pediatric examination, otolaryngology, dermatology, general health checkup, cancer screening (not including treatment), gastrointestinal endoscopy, etc.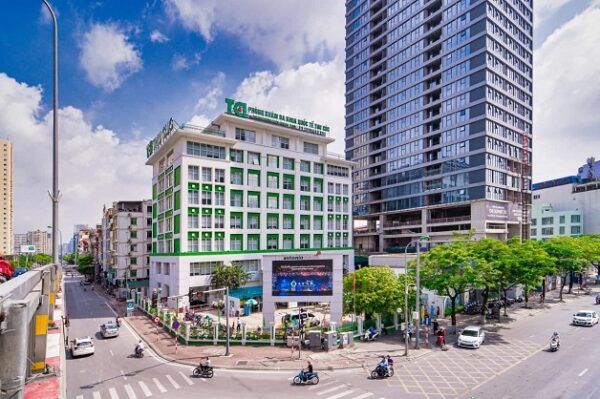 Thu Cuc General Clinic on 32 Dai Tu Street, Hoang Mai, Hanoi
Officially operated in March 2021, this location has become a trusted health unit of many people, affirming the development and expansion mission of TCI. The clinic is located at the southern gateway of the capital, adjacent to densely populated areas.
The 7,000 m2 facility is designed following the hospital-hotel model, bringing a sense of relaxation to visitors. With the advantage of possessing an ideal examination space and modern facilities, TCI 32 Dai Tu increasingly asserts its position in the healthcare market with an average of thousands of customers every day.
Here also gathers a team of high-profile and respected medical professionals. Besides, the medical staff is attentive and highly trained.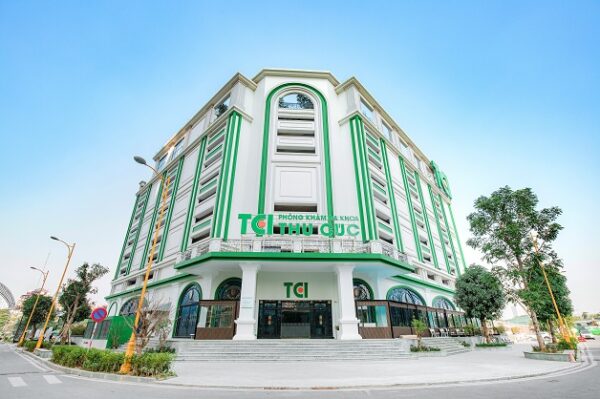 Thu Cuc General Clinic on 36 Nguyen Trai Street, Thanh Xuan, Hanoi
On November 23, 2021, a clinical unit located in a prime location started running. The 7-floor building brings a comfortable and amiable atmosphere to visitors. The clinic is equipped with state-of-the-art medical devices that bring optimal diagnostic efficiency and effectiveness such as an ECG machine, infusion pump, electric injection pump, defibrillator, otoscope, 5D ultrasound, fetal heart monitor, colposcope, digital X-ray, 6-lead electrocardiogram, automated robotic automation, etc. TCI 36 Nguyen Trai also offers a team of leading experts in the medical field. For diseases requiring surgical intervention, the patient will be transferred to Thu Cuc International General Hospital to perform the service.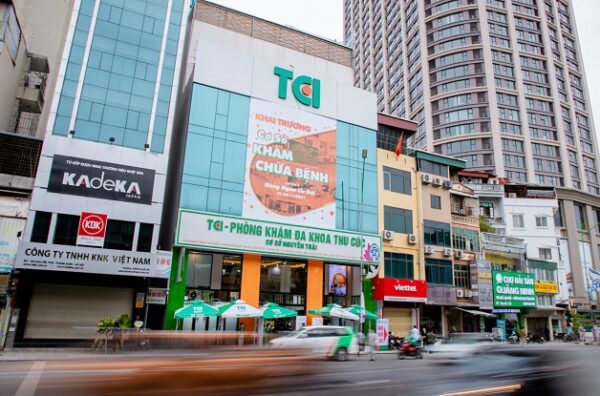 As in the development project, TCI will quickly expand the chain of medical facilities nationwide, bringing high-quality medical services closer and more accessible to people.
Along with that, TCI also invests in medical expertise with the latest medical advances to implement challenging diagnostic and treatment techniques.