In order to enhance the highly-skilled medical treatments provided by doctors at TCI Hospital, we bring a new dimension to hospital-based accommodations with a fusion of modern hospitality and a delicate atmosphere. The goal of TCI Hospital is to provide the highest possible level of luxury in order to promote comfort and wellness.TCI Hospital  is developed following the "Hospital – Hotel'' model. Thu Cuc Hospital is one of the first private hospitals in Northern Vietnam that combines high-quality medical services and diverse amenities , delivering  patients and their family members   comfortable and convenient experiences during their time in hospital. One of the areas we are happy to offer assistance in is a restaurant that accommodates nearly 200 guests.
1. High-class and convenient area
TCI Hospital's 8th floor welcomes guests with restaurant-like accommodations. Patients seeking treatments and examinations that miss or are required to skip breakfast, as well as patients' partners, can dine here.
Forty dining tables are set in nearly 200 meters square. The restaurant can accommodate almost two hundred guests. Also, an outdoor area is offered for customers who enjoy natural space.
Not only does the restaurant create a modern space but also a friendly and cozy atmosphere that fosters comfort.
2. Considerate and attentive service
The customers have the first feeling of friendliness, warmth, and professionalism from the receptionist team when they use services here.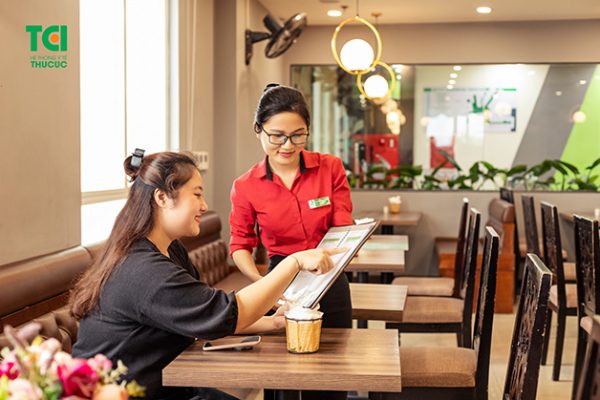 According to each customer's preference  or health status, the receptionist team will advise suitable dishes.
3. Menu diversity
The food  is created  by qualified chefs under  a nutritionists'  consultation. The restaurant serves both Asian and European dishes Moreover, the  hospital always ensures the food's source and safety by following  a careful procedure of  importing,  processing,d and serving. All the dishes are considered to ensure the balance of essential nutrients in every meal," said the hospital representative.
The restaurant serves both in- and out-patients.   Inpatients can order food from the hospital  receptionist delivered to your room. The opening hours  are from 6 a.m. to 9 p.m.; and are 24/24 for pregnant patients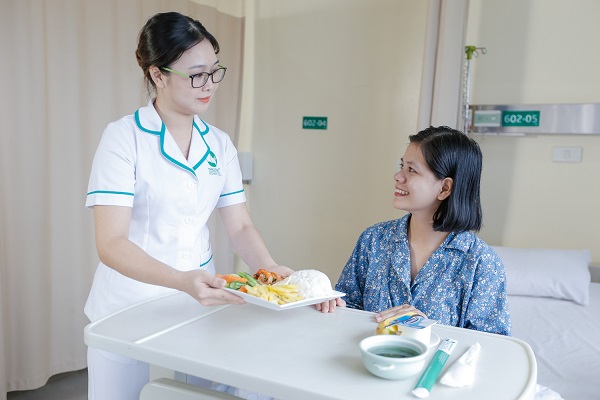 Especially, patients who seek several treatments and examinations such as  endoscopies, prenatal care check-ups,etc. will get a voucher for a free meal.