The luxurious and fancy restaurant at Thu Cuc International General Hospital can accommodate nearly 200 guests, which has become a trusted choice of many patients and family members for a long time when they come to have examinations and treatment.
The hospital is developed following the standard "Hospital – Hotel''. Thu Cuc Hospital is one of the first private hospitals in the North that owns high-quality medical service and diverse convenience, which help patients and their family members have impressive experiences during examination and treatment. One of the experiences is about the restaurant at the hospital.
1. High-class and convenient area
Located on the 8th floor of the hospital, the restaurant is easy for traveling, especially for pregnant women having a prenatal visit or patients doing blood tests, endoscopy or other prescriptions request to skip the breakfast.
Forty luxury dining tables are set in nearly 200 meters square. The restaurant can accommodate almost two hundred guests. And it also has an outdoor area for customers to enjoy natural space.
The interior of the restaurant is designed following European standards with a brown color scheme. Not only does the restaurant create a modern space but it also is friendly, cozy which inspires guests to enjoy their meals in some unique ways.
2. Considerate and attentive service
The customers have the first feeling of friendliness, warmth, and professionalism from the receptionist team when they use services here.
According to customers' favorite or health status, the receptionist team will advise suitable dishes.
3. Menu Diversity
The diverse menu is given by skillful chefs with a doctor's consultant. The restaurant serves both Asian and European dishes, which meets each customer's preferences. Under the skillful chefs, the dishes become unique but familiar. Especially, the source of food always ensures the origin and food safety which is processed according to the one-way procedure from importing to processing and serving. The hospital representative said, "All the dishes are considered and measured to ensure the nutritional balance of essential nutrients in every meal."
Last but not least, not only does the melodious music in the restaurant help customers enjoy their meals but also make them relax as they are on a holiday.
Not only do the nutritious dishes at the restaurant serve the customers and patients' family members but also the patients are served during their hospital stay. Patients do not need to travel to the eighth floor, they can order from the receptionist, there will be staff bringing the meal to the patients' rooms soon. The opening hour of the restaurant is from 6 a.m. to 9 p.m., especially they serve pregnant women 24/24.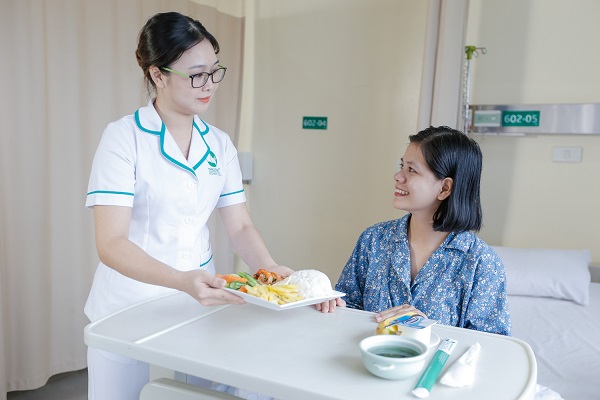 Especially, the patients who have experienced some prescriptions such as endoscopy, prenatal care checkup,… will get a voucher for a free meal here.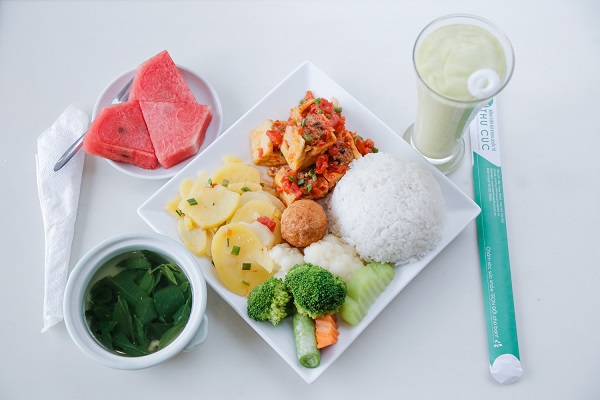 The tasty dishes are cooked by skillful chefs and professional staff which the customers will have experienced unforgettably.
For further information, please feel free to contact number 1900 55 88 92