Thu Cuc International General Hospital – TCI, founded in 2011, is the forerunner of the TCI Healthcare System. Over a decade, our goal has been to provide international patient-centered healthcare with excellence in quality, cost, and access. TCI Hospital is acclaimed with high recognition and ranked in the top 5 hospitals in Hanoi with leading quality scores and in the top 3 private hospitals with many specialties, including Cardiology, Gastroenterology, Oncology, OB/GYN, ENT, Pediatrics, Urology, Pulmonology, etc.
TCI consistently earns status for a team of dedicated and trusted health professionals, delivering care grounded in advanced treatment and the latest clinical techniques and technology. 
1. Excellent location
TCI Hospital is located at 286 Thuy Khue Street, Tay Ho district, Hanoi. The location overlooks West Lake, the largest natural lake, also known as the golden position in the heart of the capital. The neighborhood has fresh air and a peaceful atmosphere, distinguishing itself from the usual haze of the city. We hope to deliver the best patient comfort in TCI Hospital.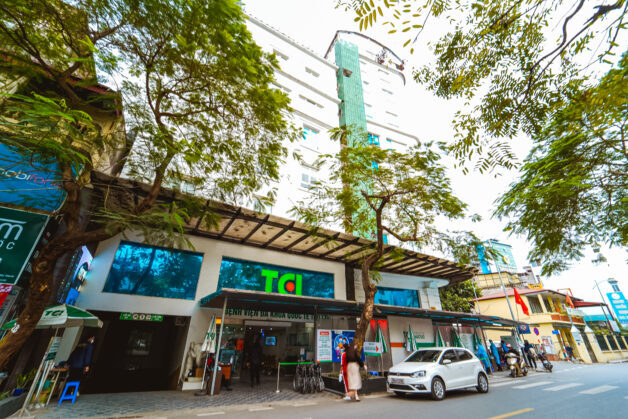 2. Professional and attentive medical team
TCI offers a medical team with outstanding expertise and medical ethics. For the past years, our staff has made efforts to dedicate themselves to the health of patients and deliver the best care with effective diagnosis and treatment. We implement inter-specialty consultation for optimal effectiveness in the early detection of illness and accurate diagnosis.
3. Medical cooperation with leading hospitals in Hanoi
TCI Hospital signed cooperation agreements with top hospitals in Hanoi to promote intercultural understanding and medical cooperation between the medical teams between hospitals. The collaboration helps improve the quality of healthcare services offered by TCI. We follow the hospital-hotel model to bring the best quality of our service and care. Moreover, we want to contribute to the solution for the overloaded public healthcare system problem in Hanoi. 
4. State-of-the-art medical equipment and technology
TCI always updates and upgrades modern facilities to deliver the fastest yet most accurate results. We want to propose appropriate and effective treatments to patients. Many of the medical equipment imported from the US, the UK, and Germany:
The latest generation of Karl Storz specialized endoscopes used in laparoscopy – are designed to provide high-resolution images.

Most advanced cute monitors offer clinical decision support and scalable patient management.

Anesthesia machines from GE Healthcare help reduce postoperative pulmonary complications and streamline perioperative workflows, reaching patient safety goals.

Ultrasonic scalpels give way to precise dissection and reliable hemostasis with minimal heat damage.
To meet the highest criteria of safety, the Department of Surgery has put efforts into designing and building an optimum operating room environment to prevent surgical site infections. The one-way sterile operating room is equipped with the most effective air filtration to help disinfect and provide fresh air, supporting the surgical process in a high level of sterilization.
5. Remarkable achievement
TCI Hospital affirms its prestige in the field of healthcare in Vietnam by processing many advantages along with well-deserved achievements: 
Top 3 private hospitals in Hanoi with leading quality scores

Top 7 hospitals in Hanoi with leading quality scores

The golden medal for perfect service quality awarded by the Ministry of Health

Customer satisfaction rating of 99%, surveyed by the Hanoi Department of Health